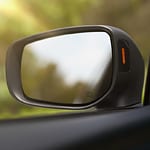 There are some challenging circumstances that can cause issues on the road no matter how careful the driver may be. Managing blind spots is one of these common issues experienced by our Medina, NY customers. Here at Hartway Motors, Inc., we take your safety seriously. That's why we're proud to offer a host of vehicles with advanced driver-assist features to help you navigate every excursion with ease. A blind-spot monitor is one such feature that you should know about.
Blind-spot monitoring (BSM) is becoming a standard safety feature on more and more vehicles these days. The purpose of BSM is to alert drivers to any obstacles that may be in their path, but outside of their field of vision. Such technology can prevent potential accidents and even save lives.
It works through sensors on the side mirrors and back bumper. Some systems incorporate a camera into the system, while others go one step further to not only provide an audible alert but also to engage the brakes or maneuver the steering to avoid a collision.